Top 10 Underwear Manufacturers In China
Created by: Frank | Updated on: April 4, 2022
Based on my experience, China is the best underwear manufacturing Location in the world.
One of the reasons is that they introducing advanced production equipment from abroad.
The automation equipment not only makes the detailing of the products more perfect, but also the production efficiency has been greatly improved.
This usually means that you will get a high-quality underwear with competitive price in the end.
I know that many famous underwear brand choose to order their underwear from China.
Location: Quanzhou
Company type: manufacturing, wholesale
Year founded: 2006
The number of employees: 300-350
Main product: Mens Underwear,Women underwear,Kids underwear
Other products: Yoga wear,T-shirts,Sport Bra
Among the many lingerie suppliers in China, YSTAR Wear also has its own place.
A good reputation and 300+ customers make us the foundation to success. Through our industry experience, we have more than doubled our performance in the period 2019-2022.
Keeping constant progress is the basis of our continuous winning the trust of our customers. High efficiency and quality make us constantly get the trust of new customers, and customers who have been customers once, basically keep the return rate of 80% or more.
Location: Shantou
Company type: Manufacturer
Year founded: 1996
The number of employees:100-200
Main product: bra and panty
Other products: Corset, sleepwear, sexy lingerie, man's boxer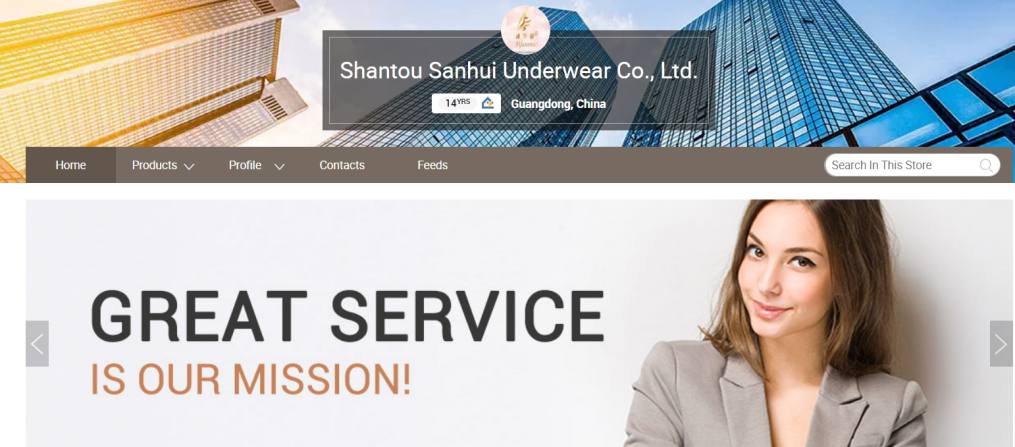 This is a relatively early company, established in 1996, with a wealth of experience in production. Unlike other factory underwear factories, their main product is bra sets. Their main market is Western Europe, which accounts for 25% of their market share.
Sanhui Underwear cooperated with the market leader in Germany, France, America , Turkey , England , Japan , Korea etc countries.if you have any inquiry about bra sets of weatern Europe,they may gudie you a solution.
Location: Shenzhen
Company type: Manufacturer
Year founded: 2020
The number of employees:1000+
Main product:  Bra, Women's Panties, Women's Underwear
Other products:, Bra & Brief Sets,Women's Sleepwear
This is a company that I know through our industry friends, and it is a factory that is growing and developing fastly within the past 2 years.their main product is ladies' underwear and Bra.
The brand sales center is located in Shenzhen, and the two lingerie garment factories are located in Dongguan and Shantou where are the China's high-quality underwear industry distribution center.
They have strong R&D ability,support ODM &OEM Service.I really appreciate their quick response on customized underwear.
Location: Yiwu
Company type: Manufacturer
Year founded: 2007
The number of employees:50-100
Main product: Sexy lingerie, sexy underwear,
Other products: men underwear,Bra, Women's Panties, Women's Underwear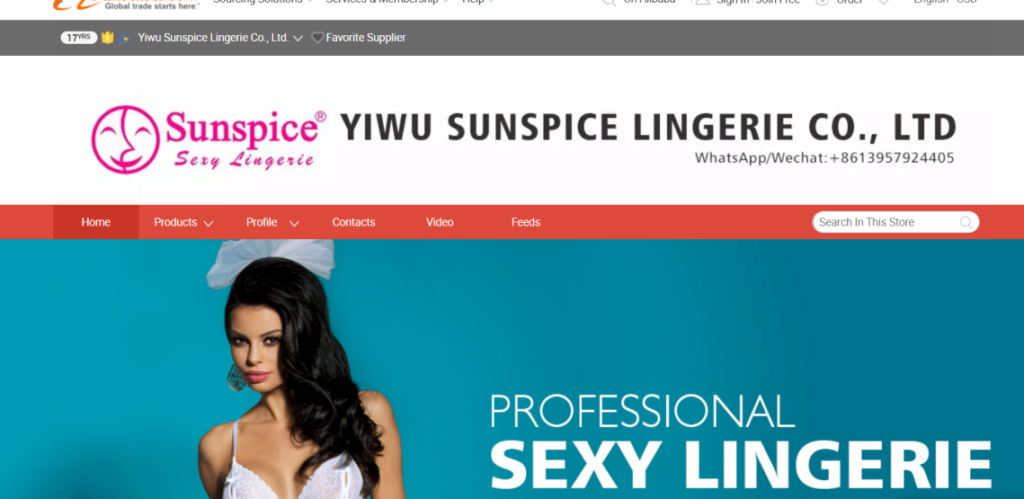 Sunspice Lingerie Manufactory is professional in the manufacture and wholesale of sexy Lingerie, Seeking permanent development based on innovation, are gradually exploring some new designs and creating more sexy products. 
It is amazing that Sunspice have own design and photo image copyright,ODM service free.
You can find them all over the world including Middle East, Africa, Europe, and the USA. A big part of what their offer is sexy lingerie.
Location: Shenzhen
Company type: Manufacturer,Trading Company
Year founded: 2007
The number of employees:101-200
Main product: Men's Underwear, Women's Underwear
Other products: Yoga Clothing, Pajamas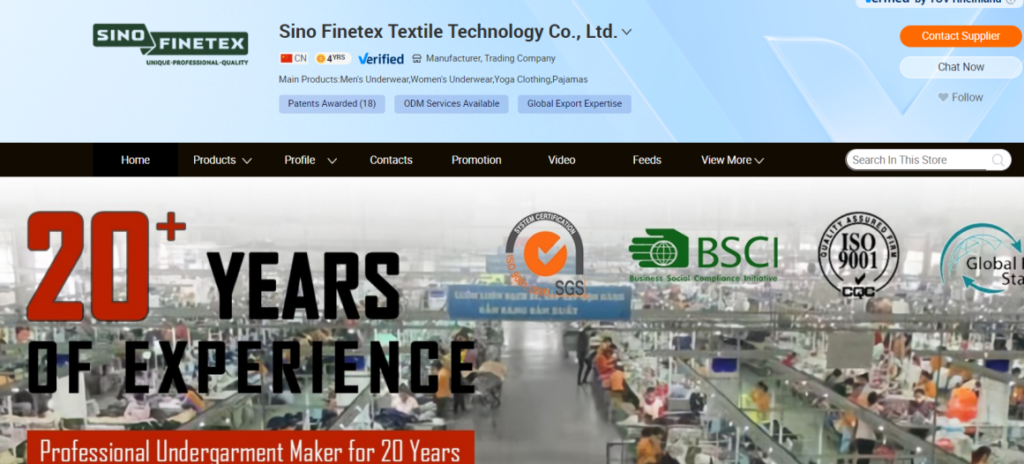 I come across with this Company from Canton Fair,Their performance at the show was remarkable. What I admire most about their company is their strong R&D capabilities, with 12 patents on quick-drying fabrics, sports shorts and more. Sion also has its own brand Duveil.
Although they have 20 years of experience in the industry, they have not given up on progress, and the products they produce and develop are in line with the current trend. The company's annual turnover has reached more than 10 million dollars, thanks to its strong patented technology.
I suggest to cooperate with this kinds of company if you are a brand in the start-up phase,their strong R&D ability will be a surprise.
Location: Anhui
Company type: Manufacturer,Trading Company
Year founded: 2016
The number of employees:101-200
Main product: Underwear, Shapewear
Other products:  Yoga Wear, Swimwear, Sleepwear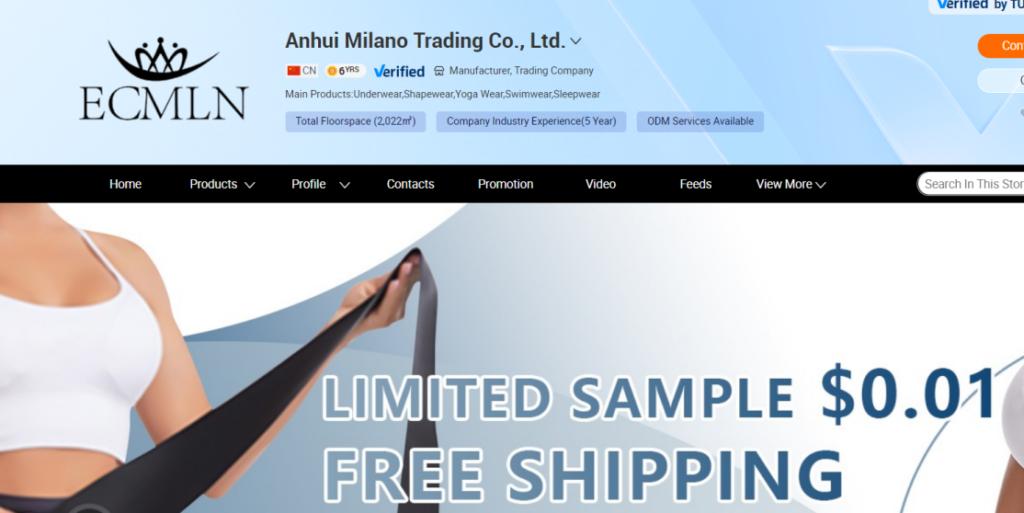 The highlight that makes Milano stand out from the other supplier is the $0.01 sample.Sample offer to Alibaba.com Pro Buyer/Corporate Buyer/Vip Buyer/Brand Buyer.
Those buyers with Freight Forwarders in China offers a $0.01 sample service, allowing customers who want to work together but are concerned about quality to have the opportunity to confirm the quality of their samples at a fraction of the cost.
360 Virtual Reality Showroom is another highlight of their company. The online showroom provides an initial look at the types of products they currently make.
Location: Guangzhou
Company type: Manufacturer,Trading Company
Year founded: 2007
The number of employees:50-100
Main product:Underwear,Sleeping Wear
Other products:Sport Bra Set,Swimwear,T-Shirt
My experience with Ruby fashion are all with their mission to protect the earth.Their own brand Co-man are all used environmentally friendly fabrics,organtic cotton etc.
I'm glad to see that firms are starting to think more about the environment for our long time development.  It can be easy to be different when there are so many firms on the market.
I also found that Ruby have a low MOQ.It will be a big support if you want to have a market test for new design.
Location: Shantou
Company type: Manufacturer,Trading Company
Year founded: 2002
The number of employees: 51-100
Main product: Seamless Knitted Underwear
Other products:Warp & Weft Fabric
I accidentally came across this company in a video presentation.Rongchang specializes in seamless lingerie. Rongchang specializes in seamless lingerie and also produces its own fabrics related to seamless lingerie. It is a company that produces its own raw materials and finished products.
There also are enough advanced equipment such as KARL MAYER, Circular machines and 48 Santoni seamless machines for stable production.
Besides,they also have social responsibility audit programs such as SA8000,BSCI ,WARP certificate.
Location: Zhongshan
Company type: manufacturer,Trading Company
Year founded: 2021
The number of employees: 300-500
Main product: Underwear
Other products: bra brief set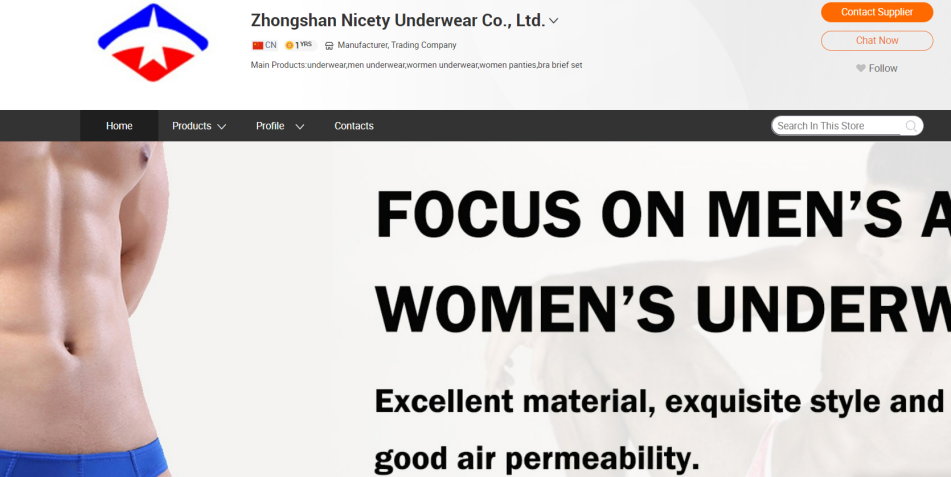 I found this website once when I searched for Modal underwear. They are an Industry and trade integrated company, with their own factory and also a trading company. Their advantage is that they can not only help their suppliers to produce their own factory's existing style products but also have more resources to develop and produce the panties and bras that meet their customers needs.
This factory has more than 300 sewing machines of JUKI002, with a monthly production capacity of 5 million pieces.In my opinion,big brand buyer will happy to work with this kinds of supplier with high capacity.
Location: Yiwu
Company type: Manufacturer,Trading Company
Year founded: 2011
The number of employees: 100-200
Main product: Ladies Underwear, Sexy Underwear
Other products: Women`s Vest, Sport Yoga Vest, Lady's Seamless Panties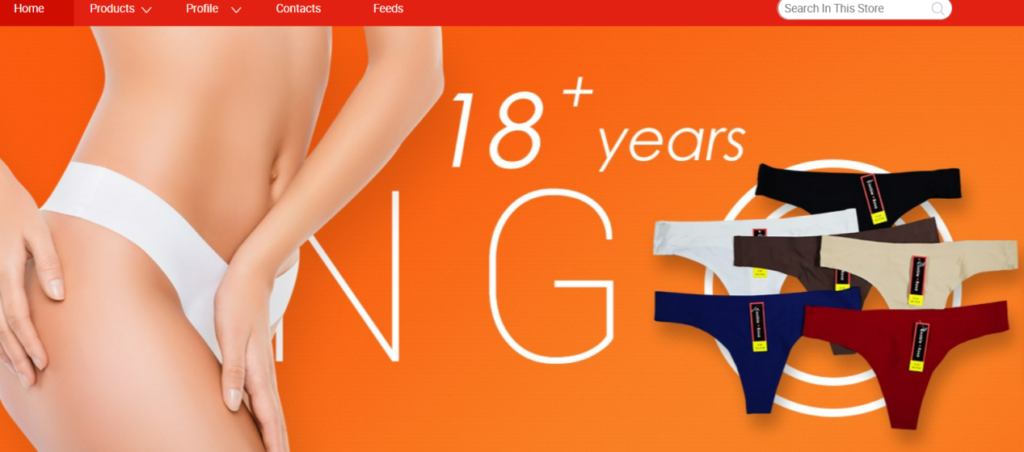 In the past decade, they managed to build 2 factories with over 10000 square meters. With such big capabilities, their product line and produce larger amounts of pieces. I consider this very beneficial when you have many wholesalers waiting.
They have a good market especially in South American.so if you want to expand you south American market, I think they can offer you a more profession advice.
Hi, I'm the author of this post, and I have been in this field for more than 15 years. If you need OEM&ODM service for underwear, feel free to ask me any questions.