Up to 20 existing cycling wear styles for you to choose from, or you can send in your favorite style and we offer an attentive design service.
A variety of fabrics for you to choose from:  Polyester, Spandex, Lycra, Gore-tex etc.
We have internationally recognized certificates that guarantee that our products pass stringent international requirements.
Custom Cycling Wear Manufacturer
Our Range of Custom Cycling Wear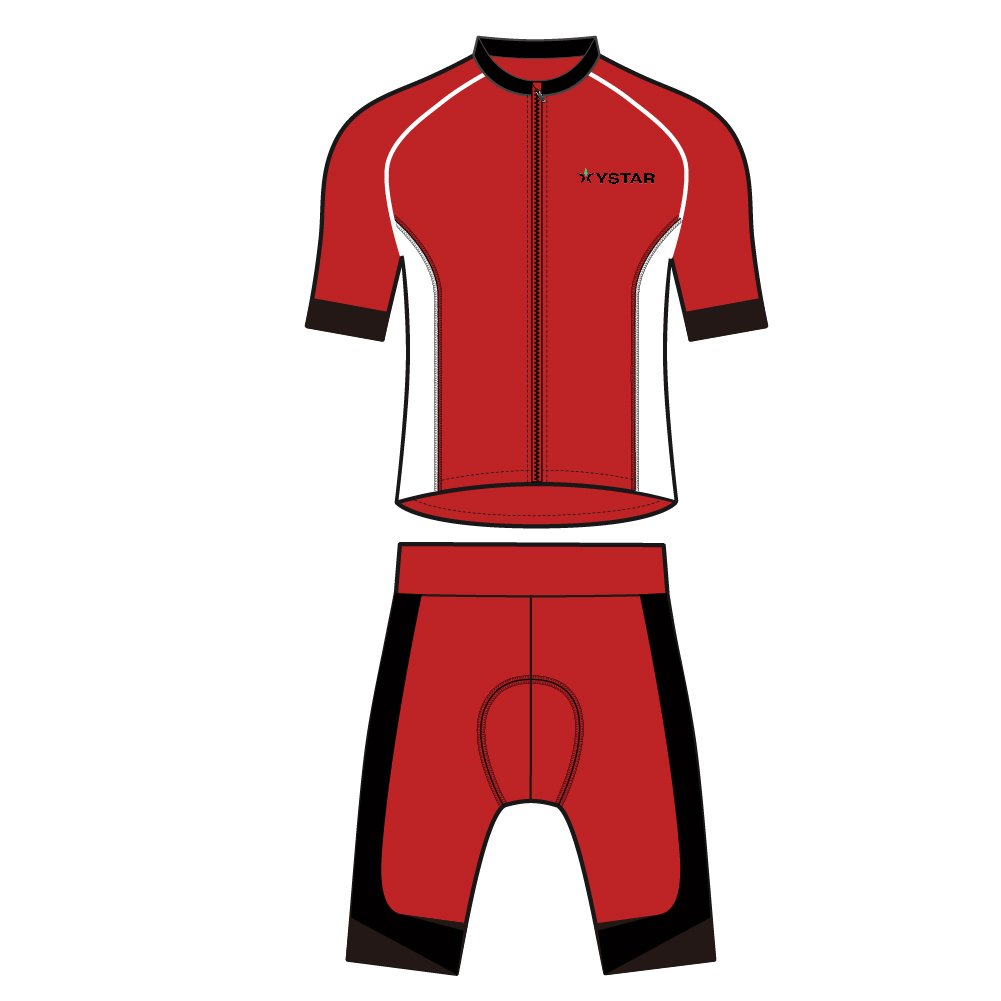 Short Sleeve Cycling Wear
Short sleeve cycling wear has a more relaxed fit than long sleeve jerseys, allowing for greater freedom of movement.
Long Sleeve Cycling Wear
Long sleeve cycling wear provide additional coverage and warmth during cooler weather, can also provide protection from the sun's harmful UV rays.
Cycling Bib Shorts
Bib shorts offer better support, protection, and performance than regular shorts. They have built-in braces that go over the shoulders, which help keep them in place while cycling.
Triathlon Suit
Triathlon suit is a multi-functional garment that is designed to be worn throughout the entire race. It provide the athlete with a comfortable, streamlined fit that reduces drag on the bike.
Long Sleeve One-piece Cycling Suit
The one-piece design helps to minimize the bunching or shifting of the clothing during riding, ensuring a comfortable fit and better aerodynamics.
Vest One-piece Cycling Suit
The vest one-piece cycling suit is an excellent choice for warm-weather cycling, as it provides ample ventilation and helps to prevent overheating.
Variou Choices for Cycling Wear Brand
Polyester+Spandex
Polyester+Wool+Spandex
Polyester+TPU
Polyester+PBT
Nylon+Spandex
PU Layer
Coil Zipper
Conceal Zipper
Reversed Zipper
Two-way Zipper
Vislon Zipper
Waterproof Zipper
Special Zipper
Used for:
Road
Triathlon
MTB
Training
Pro
How Can We Handle Your Order
As a cycling wear factory, we pride ourselves on providing top-notch customer service to all of our clients. When you choose our cycling wear products, you can expect to receive personalized attention from our team of dedicated professionals who are committed to helping you find the perfect cycling wear to meet your needs.
Our cycling wear professional sales will provide you with the following services:
Personalized Consultation: Our team will work with you to understand your unique needs and preferences, and recommend the best cycling wear options for you.
Customized Design: We offer custom design services to create the perfect cycling wear for your brand, including color, fit, and material.
Documentation: We will prepare and organize all necessary documentation related to your order, to ensure that your cycling wear is produced to your exact specifications.
Timely Delivery: We understand the importance of meeting deadlines in the retail industry, and we work diligently to ensure that your order is delivered on time. We will provide you with regular updates on the progress of your order and work with you to accommodate any necessary changes or adjustments.
Sustainability: We are committed to reducing our environmental impact and promoting sustainability in the cycling industry. We offer eco-friendly materials and production methods to minimize waste and pollution, and we encourage our customers to make responsible choices when selecting cycling wear products.
We also provide top-notch quality control services to ensure that our customers receive only the best products from us. We use advanced technology such as needle inspecting machines to thoroughly check the quality of every item we produce. 
Furthermore, our products undergo a rigorous quality control process where our trained QC personnel check each item twice to guarantee that the product meets the size chart and has no other problems. We are committed to delivering products that exceed your expectations, and this is reflected in our quality control process.
If our customers have any concerns or issues with the quality of our products, we also support third-party inspections. This means that our customers can request for an independent party to visit our facilities and verify the quality of our products. We are confident in the quality of our products and welcome any inspections to demonstrate our commitment to excellence.
We guarantee to provide satisfactory cycling wear and services to all of our customers. We understand that you may encounter issues and require assistance, and we are committed to providing a prompt and effective solution. Our team of friendly and courteous customer service experts is always available to help you. Please don't hesitate to contact us via phone or email using the following contact details:
Phone: (+86) 15606924212
Email: info@ystarwear.com