With 10+ years experience in underwear manufacturing, YSTAR is the sole global supplier authorized by international brands PSD and Knobby.
Up to 20 existing women's underwear styles for you to choose from, or you can send in your favorite style and we offer an attentive design service.
A variety of fabrics for you to choose from: cotton, polyester, spandex, modal, bamboo, merino wool, etc.
We have internationally recognized certificates that guarantee that our products pass stringent international requirements.
Custom Underwear Manufacturer
We Provide
Bamboo/Modal Womens Underwear
Bamboo and modal underwear are both made from plant fibers. They are anti-bacterial, anti-bacterial, and anti-mite with instantly absorbent and a very soft feel. 
They are eco-friendly, if your target consumers are environmentally conscious, then bamboo/modal underwear are perfect.
We Provide
Cotton Womens Underwear
Cotton underwear is comfortable, skin-friendly, and non-irritating. Our cotton is sourced from Xinjiang, the USA, and Australia, with a certain proportion of spandex to increase its softness and stretchability.
If you are targeting women of all ages, cotton panties are a good choice.
We Provide
Polyester Womens Underwear
We use digital printing technology to put vibrant patterns on the briefs. The polyester briefs are cool to wear and extremely stretchy.
These products are suitable for sports enthusiasts
as well as young fashion conscious people.
CUSTOM MORE STYLES FOR YOUR BRAND
Period Underwear (Period Panties) are reusable functional underwear with multi-layer.
It works by adding an absorbent or leak-proof layer that helps prevent leakage to the outer layer of the underwear.
Women wear them during period as an alternative to sanitary napkins and menstrual cups (depending on menstrual blood volume).
The service life is approximately 2-3 years.
We have 7 existing styles, including Bikini, High Rise and Boyshorts, for you to choose from, or you can customise your own design.
We recommend orgainc cotton and plant fiber (Bamboo and Modal) as the raw material of period underwear. And we stock these fabric with many colours.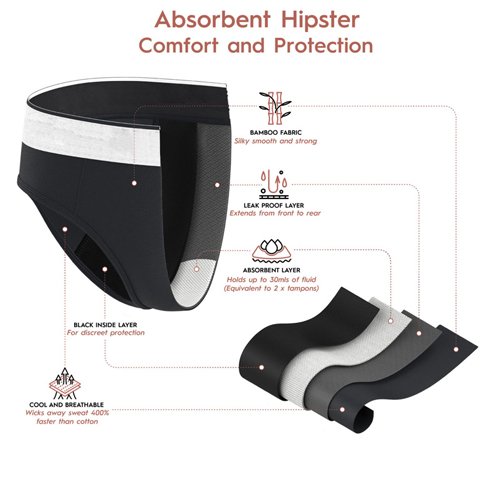 Absorbent Hipster
Layer 1: Fabric
Layer 2: Leak Proof layer
Layer 3: Absorbent Layer
Layer 4: Black Inside Layer
Leakproof Hipster
Layer 1:  The anti-odor top layer wicks away moisture from your skin
Layer 2: The inner layer absorbs the liquid and locks it in
Layer 3: Absorbent Layer
1. Wide consumer base: Thinx, the first company to officially introduce the concept of period underwear, already has 1.3 million customers
2. High profitability: Taking Thinx for example, sells its period underwear for $20-30/pc, whereas we usually offer quotation for less than $5.
3. The eco-friendliness of the product is beneficial to your brand: We use cotton, bamboo or recycled polyester and nylon to make period underwear, reducing the use of disposable sanitary products and helping your business to gain social value.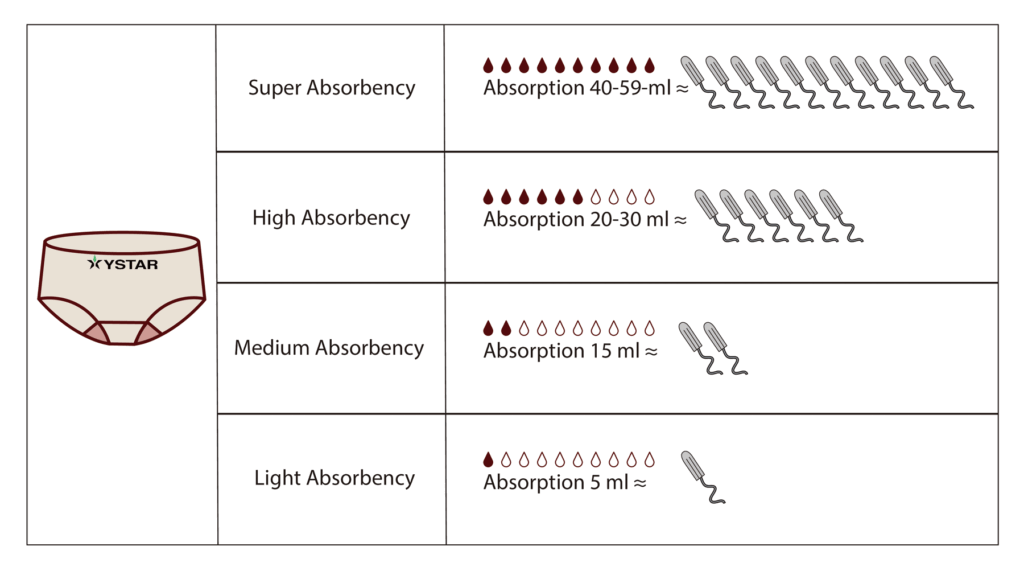 (Current Types for Reference)
FAQs About

Women's Underwear
We offer women's underwear in more diverse styles, and our attentive customization service helps to turn your ideas into reality.
We are a production-oriented company with 16 years experience. Our factory covers an area of 8,000 square meters, with 4 production lines, and more than 200 workshop employees.
The monthly output can reach up to 2 million pieces.  In recent years, our factory has introduced a series of advanced equipment including auto fabric cutting machine, laser cutting machine, digital print machine, waistband auto sewing machine.
We have 16 years experience in processing and manufacturing  underwear .
We cooperate with international big brand PSD and Knobby, we will also implement the strict standards for your order.
We are located in Quanzhou. With convenient transportation, goods can reach the port on the same day as loading day.
Our low MOQ is available for supporting growing-up company.
First, we will adopt the highest standards of raw materials within your budget. (we can show the certifications)
Second, we manufacture in strict accordance with AQL2.5 standards. 
Third, We have approximately 50 person QC team controls the entire production process. Random sampling of the entire process before production, during production, and completion
of production to ensure the product is in compliance with quality control requirements.